This spreadsheet displays the set of materials in the current project. General information on working with spreadsheets is found in the Spreadsheets section, and information on materials may be found on the Materials page.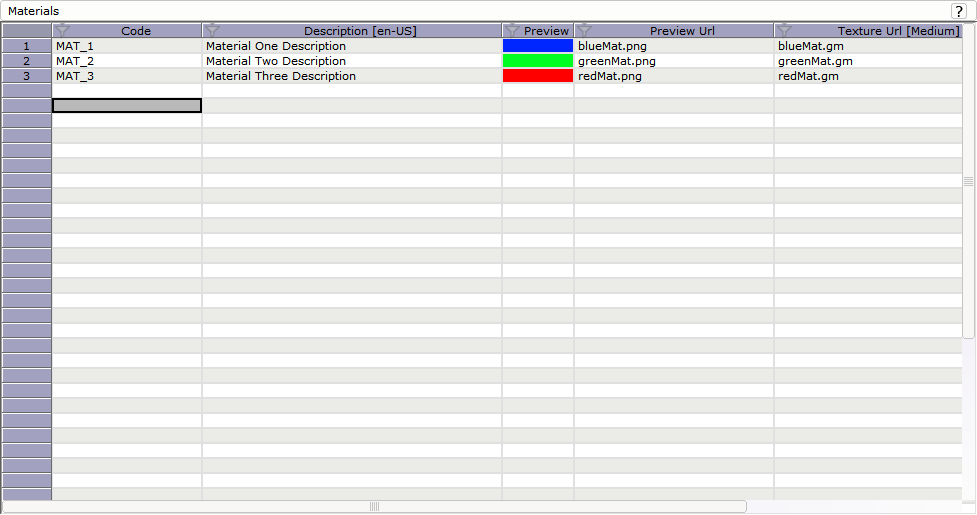 The following is a list of the columns available to the spreadsheet.
Filter Right-click on the header of each column to see the filter dialog. Simply type in any keyword and start refining the search result and using OR filter (Match any) or AND filter (Match all). The filter status is shown at the top of the spreadsheet.

Code: Every material requires a unique identifier. This is the code by which the material is referenced throughout the project. New materials can be created by entering a code into an empty cell. And likewise, deleting a code from this column will remove that material from the project. Additionally, materials may be created by dragging textures files from an outside source to the Materials spreadsheet. The code will be created automatically and will match the texture file name.
In order to maintain the uniqueness of the material codes, any time the user enters a code that is not unique, the creator will add characters to make the code unique, before submitting the change to the project. Any leading/trailing spaces will be highlighted in yellow to prevent unwanted space.
Description: These columns allow for human-readable descriptions of the material. Note that there will be a Description column for every language that is enabled in the project. This is the text that will be used to describe the material when it appears in the option.
Preview: This column is for reference only. In the cell will be a small preview of the material. Hovering over the cell with the mouse cursor will display a popup with a larger preview of the material.
Preview Url: The creator will create a default preview for the material from the material swatch assigned to it. However, setting a preview image will override this feature. Clicking the button on the right side of the cell will open a file browser. Locate and select a preview image in this browser to set it as the preview for that material. Acceptable formats are *.jpg, *.bmp and *.png.
Texture Url: This column is used to set the swatch image for the material. Clicking the button on the right side of the cell will open a file browser. Locate and select a swatch in this browser to assign it to the material. Note that there will be a column for both Medium and High resolutions. The high resolution is optional and will only be used in situations where a high-resolution image is appropriate, such as rendering. If an image resolution is not set, or not set correctly, in the image file, a resolution should be set explicitly via the Materials Toolbox. If a custom resolution is set, it will be displayed in the cell, as well as the image file name.