Import Floor Plan
The Import Floor Plan tool will import a floor plan exported from Revit (*.cmrfp) using the RevLink add-in into CET. The floor plan will only be imported in the 2D view.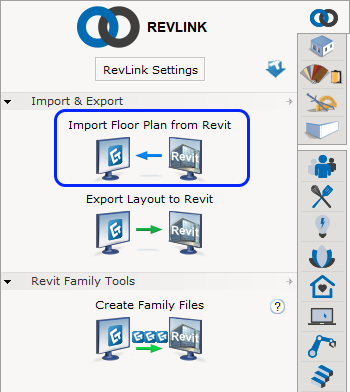 Export Furniture Layout
The Export Furniture Layout tool will export the drawing in CET to an intermediate file format (*.cmrfl) that can be imported into Revit using the RevLink add-in.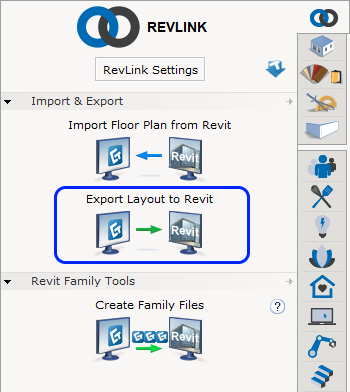 Before you use this tool, please make sure that you have the correct RevLink Settings for your needs. To export, follow these steps:
Click on the Export Furniture Layout button. You will be asked to name the file and select the directory to which you want to save the layout.


Click Export to proceed.


You will find the floor plan in the selected directory with file extension *.cmrfl.
During Import Furniture Layout in Revit, the drawing from CET is converted to Revit format and family files will be created from all non-architectural objects in your drawing and they are placed in the selected Revit Project. Objects that can be exported are all interiors such as furniture and Accessories. Objects that will not be exported are any architectural objects other than walls, such as doors, windows, roofs and floors.
The families will contain parameters as defined in the RevLink Settings.
Once the objects have been imported into Revit, the Revit user can move, rotate and duplicate the objects. However, changes to the CET objects in Revit cannot be transferred back to CET.