With Favorites you can save common component combinations that you want to use multiple times. This could even be a drawing that you use as a template. While cut, copy, and paste allow you to re-use selected components, favorites are saved files that can be inserted in other drawings and shared with others, and you do not need the original drawing to be opened in order to insert it. Just select your saved favorites and insert them in the drawing area.
Follow these steps below to save a component as a favorite:
Select a component or group of components and right-click.
Select Save As Favorite in the context menu.

The Save Favorite dialog box appears. Choose the location where you would like to save your favorite.
Name the favorite. You can also add a description of your favorite which will help with searching for the favorite when you want to insert it later.

Click the Save button.
You can also save a block as a favorite, alone or together with other components in a group.
Advanced Settings
Advanced Settings let you control placement behavior by selecting which object or point should be centered under the cursor during placement when you insert a favorite.
Click on the Advanced Settings button to expand the section and see the options below: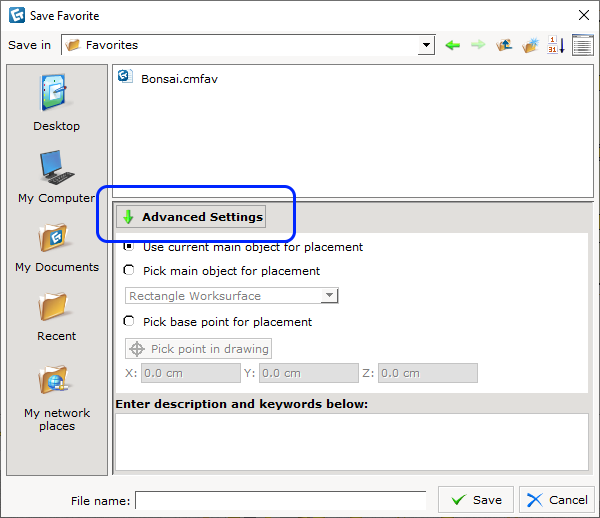 These are the Advanced Settings when saving a favorite:
Use current main object for placement: The last selected object will be the base point while inserting favorite. This is a default setting.

Pick main object for placement: If multiple objects are selected, you able to select the one to be the base point while inserting favorite from the drop-down menu.





Pick base point for placement: This option allows you to place the base point anywhere. Click Pick point in drawing and find any point as the base point. The coordinates will be specified according to the point you picked. You can also specify coordinates directly in the coordinate fields: