If you have saved a favorite and would like to insert it in the drawing area, follow these steps:
Press the F key, or right-click anywhere in the drawing area and select Insert favorite from the context menu.
The Insert Favorite dialog box opens.
Locate your favorite by browsing for it:

Double-click your Favorite, or select it once and and click Open. Your favorite appears at the cursor.
Click it in place in the drawing area.
To stop inserting the favorite, press the Esc key or move the mouse pointer outside the drawing area.
When inserting a favorite that has its origin in a CET Extension or Catalogue, or SketchUp, the property box displays a Use Original Position checkbox. By selecting this, you can ensure that the favorite inserts at the exact same position it was originally saved from, which could be useful for example when working with multiple floors.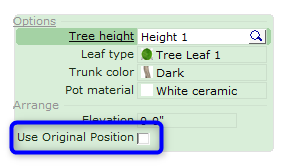 CET distinguishes between favorites based on where they were placed when saved. A favorite saved from the 2D/3D View can only be inserted into the 2D/3D View, and a favorite saved in Paper View can only be inserted into Paper View.