There are a number of pre-defined work modes in CET. You can, however, edit an existing work mode or create your own. To do so, you will need to go into the Work mode editor which is accessed either from the Work Mode drop-down menu, or from the Control Panel:


In the Work mode editor, use the checkboxes in the tabs Visibility, Tabs and Key Bindings to customize the visibility and functionality of elements in the CET interface to set up your favorite work environment. Once you have created a work mode, it will be available in the Work Modes menu.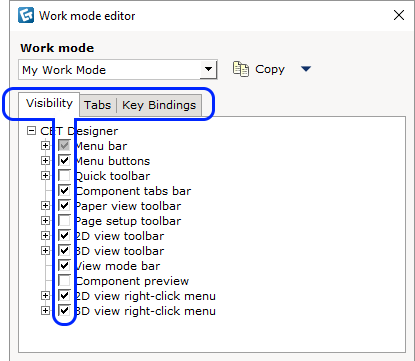 The down arrow to the right opens a drop-down menu with the options for renaming, resetting or removing the currently selected work mode: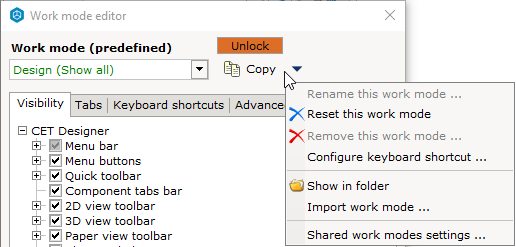 Your work mode setup saves as a .cmwrk file in a WorkModes folder in your local CET Documents folder with the path CET Documents/WorkModes. You can easily reach this location by clicking the Show in folder option. A work mode setup is a reusable file, which means that it can be shared and reused among colleagues if placed in a shared location.