Click on the link above to download the render server. Save the .msi file and then install it. The installation is quick and will start the render server automatically at the end. Once the installation has been completed, you will notice a little CET icon in the notification area down by the clock in the bottom right corner of your screen: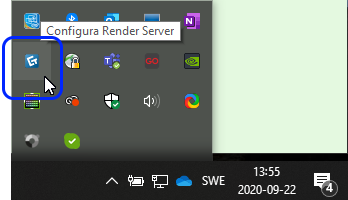 In case your notification area does not display the render server icon, you can start it manually by pressing the

key, locating the CET Render Server Controller, and double-clicking it. This launches the render server and the CET icon should now be displayed in the notification area.
Clicking the tray icon brings up the Controls for the Render Server: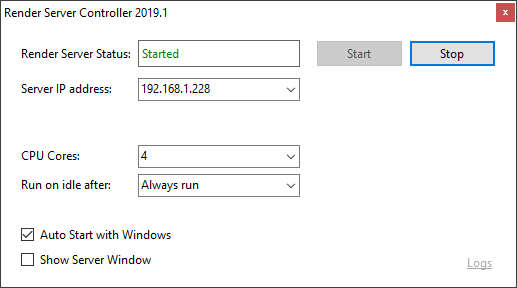 Here, you need to make sure that the Server IP address is within the same subnet as your client(s). We also recommend that you select the Auto Start with Windows checkbox to make sure that your computer can help with render jobs when it is idle.
You can select how many CPU Cores the render server is allowed to use on your computer, and whether it should always run or wait a certain time after the last user activity.
If given a large amount of render jobs, the render server will consume a lot of computing power. Using the computer at the same time will then be slower than normal.