On the Render Accelerator component tab, there is a button for opening the Resource Details window, where you will find information about each resource in the rendering network: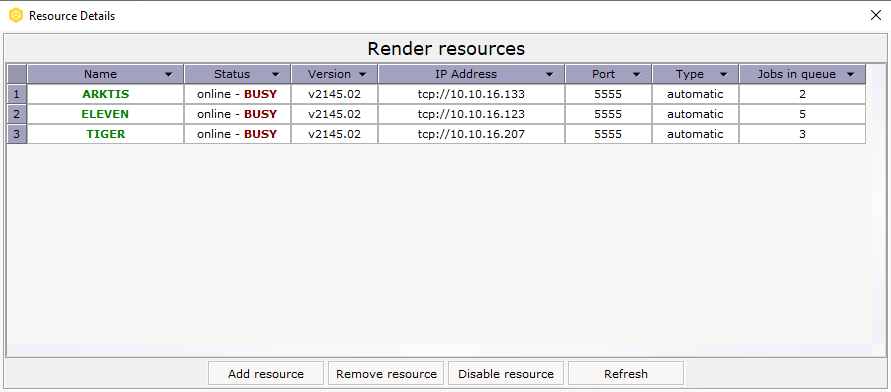 The information listed for each resource is the following:
Name (Computer ID): Green indicates that the resource is answering and is operational.


Red

indicates that the resource is not answering or answering strangely.
This check is performed every 10 seconds.


Status: The resource can be either online or offline and free or busy.


Version: Which version of the Render Server Controller the resource is on.


IP Address: Shows protocol and address of the resource.


Port: Lists the port used for communicating with the resource.


Type: Tells whether the resource has been automatically or manually added.


Jobs in queue: Render jobs waiting to render on the resource.
At the bottom of the window are two buttons for adding or removing a resource. You must be on the same subnet to add a resource to the network. Then, you'll need to enter the computer name or the computer's IP address you'd like to add.
Remove can be used to remove resources that have been manually added but are greyed out and cannot be used for automatically added resources.