The Material Explorer is a tool for browsing, viewing, and applying graphical materials in CET Designer. You can change the material or color of the architecture, accessories from utility extensions, custom shapes, ProjectSymbols, and more.
From the Material Explorer you can also access the Material Lab in which you can create new materials, organize material categories used in the Material Explorer, render materials, customize predefined materials and much more!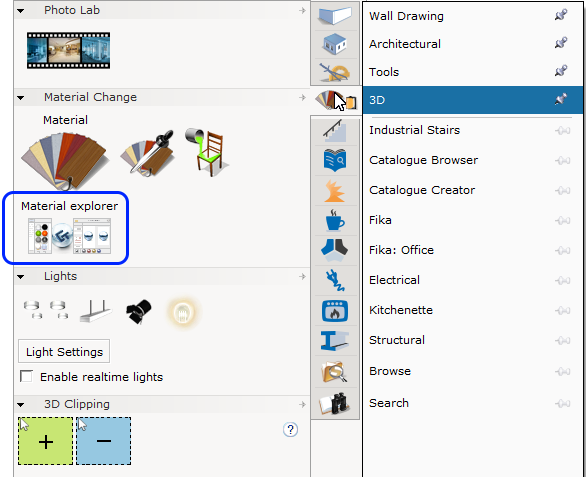 Smart symbols (PGC) inserted from a manufacturer's extension will not accept materials from the Material Explorer since finishes are applied through schemes or the green properties box. You can also apply COM's through schemes and properties. To apply materials from the Explorer, make your PGC symbol editable through the Edit Graphics extension.
Materials do not contain pricing or product info
Interface
The Material Explorer window is divided into four main areas shown in the picture below: the View bar area, the Categories list, the Preview area and the Toolbar. Read this article to learn more about the areas in the Material Explorer.
Using the Material Explorer
To apply a material from the Material Explorer, follow these steps:
Go to the

3D

component tab.
Under the

Material Change section, click the

Material Explorer

button. The Material Explorer window opens:

Browse the categories and thumbnails to find your color or material. Click to select it. Do not hold down the mouse button while you move. Once in the drawing area, you will see a paint bucket icon at the end of your cursor.


If Change selected instantly is checked, and if you have an object selected in the drawing, all layers of that selected object will accept the material clicked.

Move towards the component you want to change and click to execute the material/color change. If the object has multiple layers, a list of layers will appear as a green properties box.


Use the

Tab

key to move through the list of layers.
Missing a material in CET Designer? Use the
Material Request
found in the
Help
menu! By sending in your request you are helping our team in creating and adding materials that our users want. Or you can use the Material Lab to create your own!