After selecting a SketchUp object in the drawing area, you can edit it by changing the properties in the green properties box: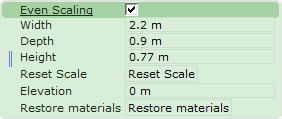 Even Scaling: Check this box to ensure that models retain their proportions when scaled.
Width, Depth, Height: Set an exact size on the imported object.
Reset Scale: Reset the model back to its original size.
Elevation: Decide how high above the floor the object should be placed.


You can also use the PgUp and PgDn keys to raise and lower the symbol.

Restore materials: Revert any new materials from the Material Explorer that you have painted on the symbol.