CET Designer supports the import of 3D models from SketchUp. This allows you to choose from a huge library of objects of all sorts. Add these objects to your drawing to achieve a more realistic impression.
The SketchUp Extension is available on the Marketplace.
After downloading and installing the Extension, you'll have a new SketchUp component tab in CET Designer. Here, models can either be imported from file (i.e. models that you have downloaded to a location of your choice), or imported from the 3D Warehouse.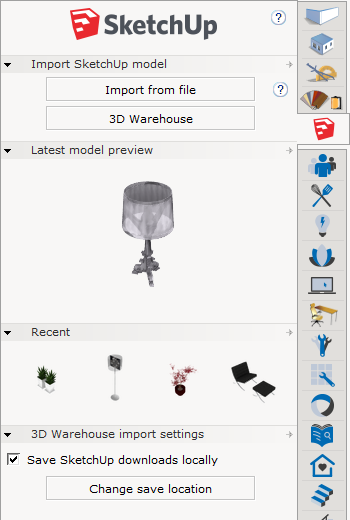 By default, SketchUp objects that you download are saved in a local folder on your computer. You can check the current save location or change save location by clicking the Change save location button on the SketchUp component tab. If you don't wish to save the models at all, just use them immediately, you can uncheck the Save SketchUp downloads locally box.