You can export drawings to the CAD formats .dwg and .dxf.
CET also supports exporting drawings to the 3D file formats .obj and .skp.
Exporting to .dwg or .dxf
To export a drawing to one of the CAD formats, follow these steps:
Go to File > Import & Export > Export Drawing:




In the

Save as

 

dialog that appears, select a file destination, name the file, select file type (.dwg or .dxf) and click the Save button. This

 

will direct you to the

 

Export Cad (dwg/dxf) drawing

 

dialog where you make all the export settings:


The Export Cad (dwg/dxf) dialog



In the Scale and unit field, choose the Scale by using one of the buttons or by entering a value in the text box to the right. Continue to set a Distance unit. You can choose to pick the scale from your 2D View Clips, given that the Paper View option has been enabled in the Export section below.
The Export field enables you to determine what drawing information you want to export: your current 2D View, 3D View, or Paper View. For Paper Views, you can choose to export All active papers, which will export all papers into one CAD file and display them as a series (observe in AutoCAD), or only the Current Paper.
To specify what part of the drawing you would like to export, check the Filter box and then click the Filter settings button.
Click on OK when you have finished your selections.

When exporting to dwg, CET includes previously imported dwg files as Xrefs. You can reverse this by un-checking Export imported CAD (dwg/dxf) drawings as Xref files.
Advanced export settings
If you wish to have more control of what drawing information to export and how it should be exported, click the Advanced settings button in the bottom-left corner of the dialog box Export Cad (dwg/dxf) Drawing.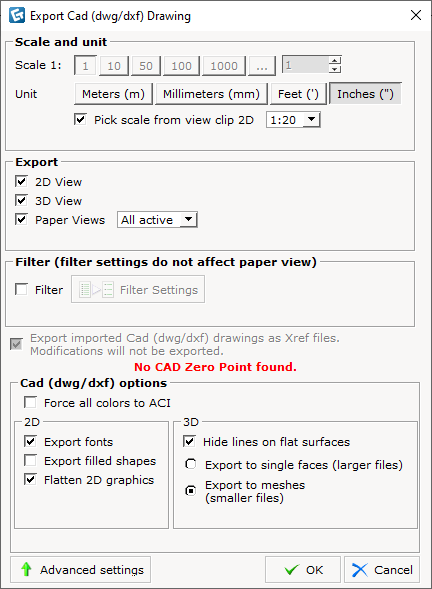 The Advanced settings in the Export CAD (dwg/dxf) Drawing dialog.
Under the heading Cad (dwg/dxf) options, the following advanced settings are available:
Force all colors to ACI: Converts all saved color values to conform to AutoCAD ACI numbering.
A.  2D export:
Export fonts: Exports font information with each CET component. Note however that not all components have this information embedded.
Export filled shapes: When selected, filled shapes are exported as solid hatches.
Flatten 2D graphics: Selecting this option ensures all elevation is set to zero for 2D symbols or lines when exporting the drawing to CAD. It will help prevent instances where lines, or parts of symbols, could become separate and come in at different elevations.
B.  3D export:
Hide lines on flat surfaces: Automatically turns off the visibility of superfluous lines that lie on a flat surface. When exporting, each component has to be faceted. This is a process where each surface is converted into one or multiple triangles or squares (polygons). A curved desk, for example, has to be approximated by dividing it into many polygons. This option turns off the visibility for some of the polygon lines that do not contribute to the wireframe view of the drawing.
Export to single faces: Exports each polygon as a single entity.
Export to meshes: Exports multiple polygons as meshes, which creates smaller files. Meshes can also be exploded in AutoCAD to obtain single faces.
Filter settings
You can choose just to export a part of a drawing to dwg/dxf. If, for example, you have a drawing of an entire building, you can choose to export just one of the rooms.
To specify what part of the drawing you would like to export, check the Filter box and then click the Filter settings button in the Export Cad (dwg/dxf) Drawing dialog.
Selection tab
Check All to export the whole drawing, or Selection to export selected areas in the drawing: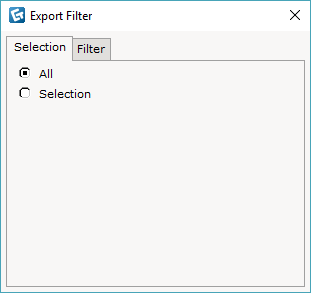 You must have the desired items selected in your drawing BEFORE beginning to export if you choose Selection.
View Modes tab
This tab lets you filter out which View Modes should be included/excluded in the export: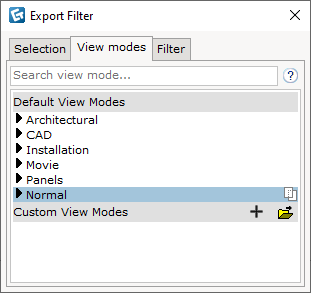 Filter tab