When you click a block, the products that it contains are listed in the calculation view below the reconfiguration chart.
If you select a Compare block, you will see the output results. There is a column that reflects the label of each block in the chart.

Rename the blocks in their green properties box for a more specific description. The new names are reflected in the Compare Article View:

Compare
Each column lists the quantity of products from each block. The default way of comparing is by Part Number and Ind. Tag, but you can also select Options (recommended) in the Compare by: drop-down:


Setting the criteria for comparing columns
In the example below, you see that the part number and options are exactly the same on several of the chair rows, even though they have different options in the drawing:



Example of how items are compared, here only by Part Number and Ind. Tag.
By adding the Options code to the compare criteria, the rows have to match exactly, including finishes and other options. If two products have the same Part Number but different options, they will be split into two lines and not reused:

In the article view, you are able to edit quantities and even zero out lines if you wish.
Export
The contents of each block (except Compare) can be exported to any file type that can be generated from exporting an Article View in Calculations. To export, follow these steps: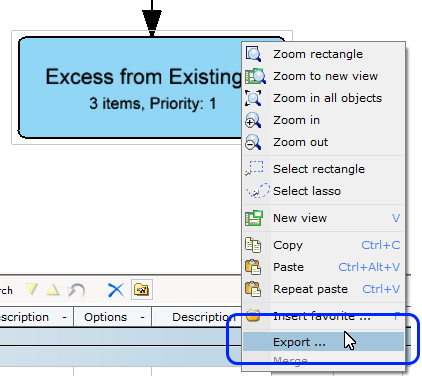 Right-click on the block and select Export from the context menu, or click the Export this view button.
OR
select the block in the chart and click the Factory icon at the top of the list area:

Enter the name and location of the file and click the Export and close button or the Export button.
The resulting SIF file can be imported into your order entry program.
Print
You can print a Reconfiguration chart and selected article views in the Print Reports dialog, which can be opened from the File Menu in the Reconfiguration Tool dialog: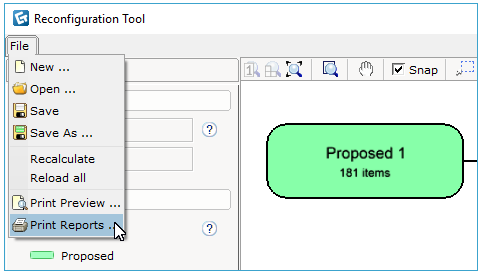 You can also print from within CET. If you open Print Reports from the main CET window, you will only see the Reconfig section if you have opened the Reconfiguration tool. You cannot print from a reconfiguration that you do not have open.
Use the keyboard shortcut Ctrl + P to open the Print Reports dialog from CET.
To print a reconfiguration, follow these steps:
Go to the File menu and select Print reports, or use the printer icon in the upper left corner. 
In the Report Settings tab, check Chart if you wish to print the diagram from the top portion of the Reconfiguration Tool window, and the Article Views that you wish to include in the report.

The Print Reports dialog.