The Reconfiguration Tool is a fast and easy way to manage inventories and reconfigurations of complex facilities. Both .cmdrw and .sif files can be used in the comparison, as well as alternatives and filtered Article Views.

The Reconfiguration Tool is easy-to-use, with basic graphical representations in flowchart form which let you:
Compare existing products to new project lists in order to generate reused, leftover, and new product lists.
Track which products are warehoused or installed in which locations.
Create reconfiguration scenarios in order to optimize the reuse of existing products.
Prioritize the pulling of products from specific already-installed projects or warehouses.
Retain an accurate, historical record of product inventory data in a single, accessible, and easily updated database.
The Reconfiguration Tool is a separate Utility Extension that is free of charge, and here is how you download it:
Click the Marketplace button in the CET, as shown below. This opens a web browser showing all available CET Extensions. Search or browse for the Reconfiguration tool and install it.


The Marketplace button in the CET main window.
After installation, launch it by clicking the Start Reconfiguration Tool button on the Reconfiguration Tool component tab. This opens a new window with a pre-made flowchart.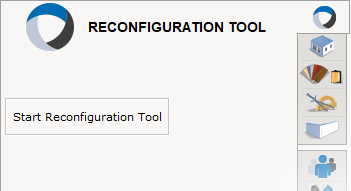 When saving a reconfiguration chart, a separate file with the suffix .cmrcf is created. This file can be opened without access to the drawing files that were originally loaded in the chart.
There is no synchronization between the Reconfiguration Tool and the drawing area or the calculation in the main window. This means that if you have made changes in a drawing, you need to save it and then reload it in the Reconfiguration Tool for these changes to be included. 
User interface
The top half of the window displays the flowchart while the bottom half shows a calculation view, listing all the articles within a selected block, as shown below.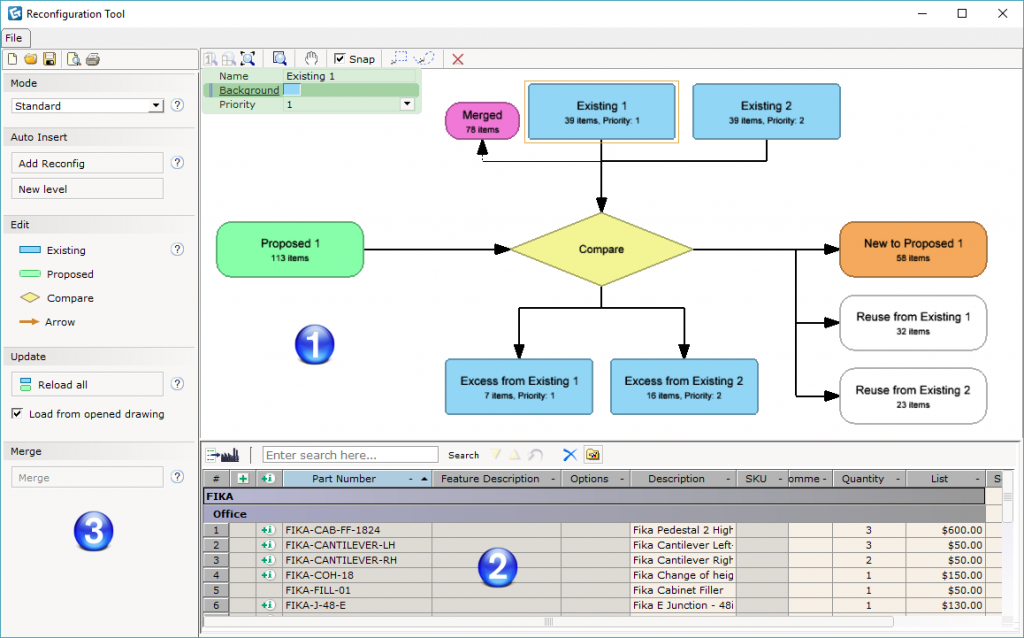 The Reconfiguration Tool interface with a sample flowchart.
| | |
| --- | --- |
| | Reconfiguration flowchart |
| | Calculation view for the selected block |
| | Component tab |
Reconfiguration Tool Modes
In the menu, you will find two different modes for the Reconfiguration Tool – Standard and Advanced. Which one to pick depends on how detailed control you need to have:
Standard: Limits the options you can interact with in the View Settings. This is meant to guide you towards proper Reconfiguration numbers.

The default columns for the Compare block are reduced to only show relevant information.
Compare column control is part of the drop-down menu located on the right side of the view for the Compare block.

Advanced: Allows you free reign over the View Settings. However, certain combinations of settings can lead to odd Reconfiguration numbers.