This article explains the purpose and functionality of the Extension Startup.
About Extension Startup
Extension Startup is a system that decreases the startup time for CET by staggering Extensions to load only when you interact with them. The goal is to keep the startup time for CET below 30 seconds.
Functionality for the Extension Startup is found in the Control Panel.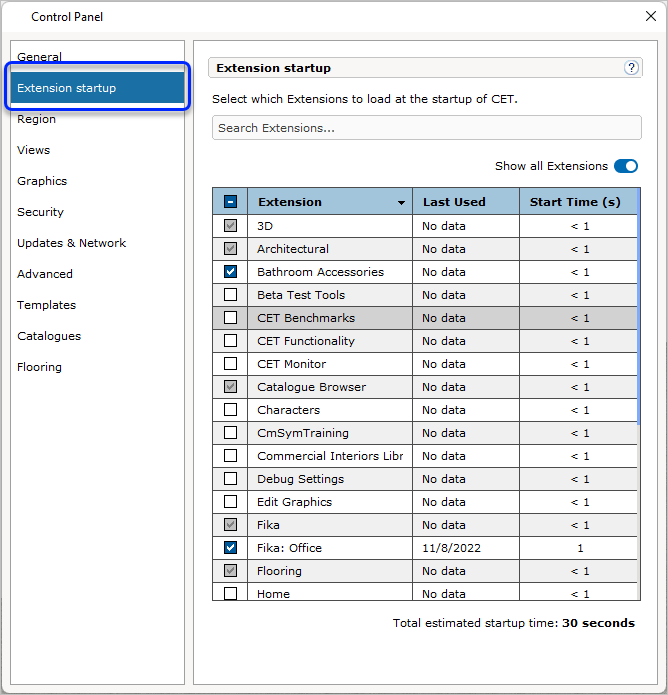 Using Extension Startup
Control Panel
The Control Panel is where you define which Extensions will load at the startup of CET.
You have a few options to search and sort Extensions:
Use the Search Extension field at the top of the dialog box.


The button in the column header will uncheck or check all Extensions.



The can be sorted with a single click on the column header.
The Show All Extensions will be disabled by default.

To get started, follow these steps:
Open the Control Panel from the File menu.
Click on the Extension Startup option.
A checked Extension means the Extension will be loaded upon startup.

An uncheck Extension means the Extension should not be loaded upon startup.
The Extension may still load depending on your computer, how long it takes to startup CET, and your usage pattern for that Extension.

Some Extensions are required to load at startup and cannot be deselected in the Control Panel. These Extensions will be checked and grayed out.

The Total Estimated Startup Time will change depending on the number of Extensions checked.
Developer Tip
: Interested in implementing this for your extension? Click
here