Using the Rectangle replicate tool, you can replicate a selected object to form a symmetrical square or rectangle starting at a chosen point.
To use this tool, follow these steps:
Go to the Tools component tab and select the Rectangle replicate tool from the last section:




To replicate the component starting from a custom point, verify that the Pick start point option is selected in the property box in the top left corner of the drawing area. Uncheck the box by clicking or pressing the Space bar so that the selected objects themselves serve as the start point.
Click to select the component. If Pick start point was checked, you will now need to select the point from which the replication extends.
Start moving the mouse diagonally to form a square or rectangle and use the green properties box to create your setup.



Press the Tab key to move to the next line in the quick properties, and the Space bar to switch between options on a single line or to lock/unlock options. Type in a number in the distance field, or let it be automatically determined by the position of your cursor.


The following options are available in the properties box:

X axis / Y axis: The X axis is on the horizontal plane of the 2D View and the Y axis is vertical. Select the type of distance measurement you want to set.
Gap: The distance of either Edge to Edge, To Next, or Total Length, as selected on the above line.
Quantity: The total number of copies you want the replication to consist of.
Total length: The total length you want the replication line to be.


Do not lock this cell if you are using Total Length to determine the Gap type above.

Rotation of copies: Sets a degree of rotation of all copies (does not rotate the original).
Keep original: Select this checkbox if you want the original object (your reference) to be retained.
Fill rectangle: Select this checkbox if you want to fill the rectangle with copies. Leaving the checkbox deseleted will result in an empty space in the center of the rectangle.



Click once or press Enter to finalize the placement.
Repeat steps 2-5 for each component that you want to replicate.
Press Esc or move the cursor outside of the drawing area to release the Rectangle replicate tool.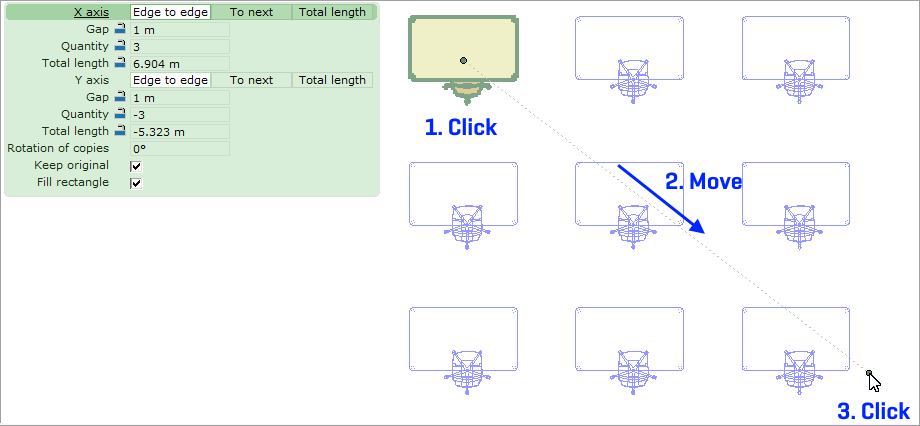 X / Y axis
There are three types of measurements for the X and Y axis:
Edge to edge: Distance between the edges of each copy.
To next: Distance from the starting point of one object to the starting point of each new copy.
Total length: Distance from the start of the first object to the end of the last copy.
| | | |
| --- | --- | --- |
| | | |
| Edge to edge | To next | Total length |