3D Clipping in the 2D toolbar
The 3D Clipping tool allows you to render isolated portions of your drawing by hiding objects that obscure your view, or simply to focus on a certain area while designing. The tool is actually placed in the 2D view to control what is then seen in the 3D rendering. An easy way to access the clipping tool is from the 2D view toolbar:

After selecting the tool from the 2D toolbar, move the cursor to the drawing area. Click-and-drag the rectangle in place to stretch it to the desired size. Photo Lab opens, and a thumbnail has been created that only includes objects that are touched by the clipping rectangle.
To further edit clipping for your rendering, use the clipping tools found in Photo Lab.
3D clipping in the 3D component tab
You will find a similar tool in the 3D component tab, along with another tool to make clipping more precise. The green rectangle with the "+" is the tool in the 2D toolbar and creates positive space, i.e. defines what will be seen in the rendering. the blue rectangle with the "-" defines negative space, selecting what to hide in the rendering. These tools will apply in Photo Lab and the regular drawing view.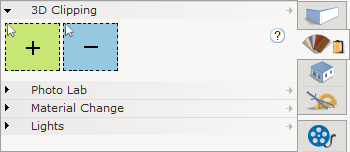 Negative rectangles (blue) hide objects that are fully included, while positive rectangles (green) show objects that are touched by the rectangle. Here is an example shown in both 2D and 3D: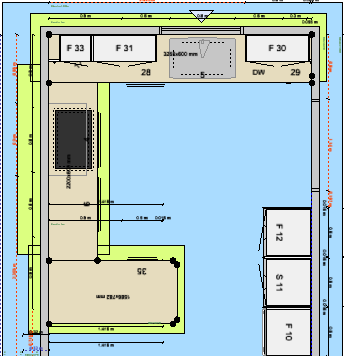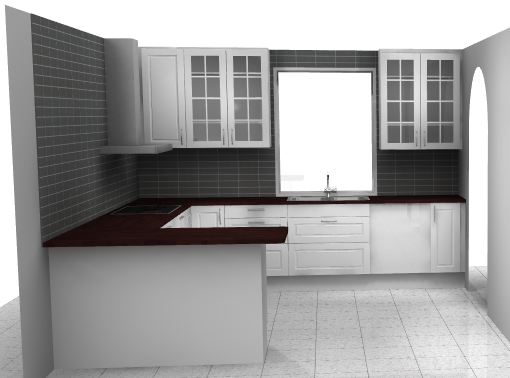 As long as there only are positive rectangles in the drawing area, CET automatically assumes that you want to hide everything else, as if you had placed one large negative rectangle covering the entire drawing. This is intended to make it easier to quickly show only a small selection of objects, without having to first place a negative rectangle. Use the negative clipping tool when you have objects to show or hide overlapping in the same space.
The rectangles are visible in both the 2D and 3D views. When they overlap, positive ones always predominate negative ones.
3D Clipping in Photo Lab
3D clipping can also be placed directly in Photo Lab to control what will be visible in renderings. To access the clipping tools, enter 2D mode in the upper right-hand corner of the Preview Area: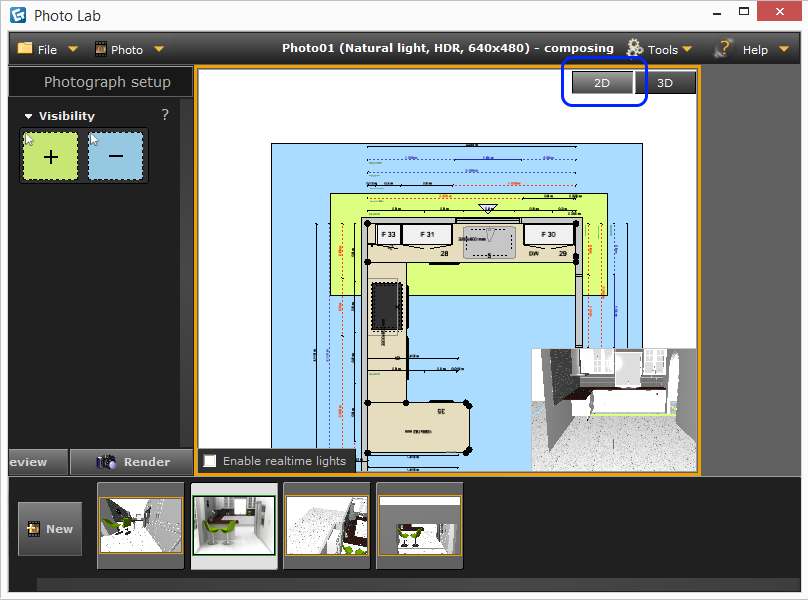 These tools work exactly like those found in the 3D component tab, but will only affect the rendering in Photo Lab, and will not hide any objects in the regular 3D drawing view.
When creating a new rendering, the new thumbnail creates a copy of the selected one. If the selected thumbnail has any clipping placed in it, the same clipping rectangles will follow. To remove the clipping from any thumbnail, right-click on it in the Thumbnail Area and select Remove 3D clipping from the context menu.