The Material Lab window is divided into four main areas shown in the picture below: the Thumbnails area, the Material properties area, the Tool bar and the Viewing area.
Click the links below to read detailed descriptions of each area: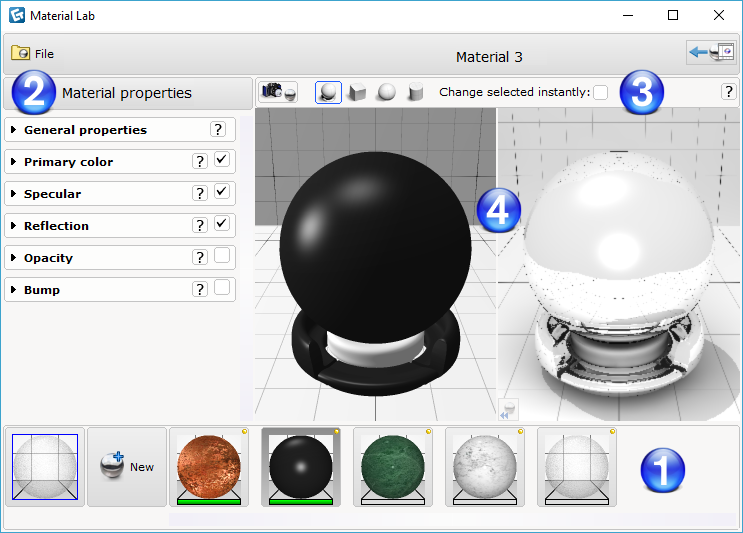 Thumbnail area

All materials are displayed in film strip fashion in the Thumbnails area at the bottom of the screen. Click New to create a new material, or you can drag a material from the Material Explorer to start working with it. Alternately, you can open the Material Lab by double-clicking a material in the Explorer to begin editing it.
Materials with a gray progress bar are ones that have not been rendered. A green progress bar indicates that a material has been rendered. The blue bar is displayed while a material is rendering to indicate the progress. The orange bar indicates that a material has been modified after it has been rendered.
Material properties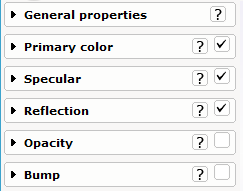 Edit the appearance and behavior of a material in the Material properties section on the left-hand side of the Material Lab. You can edit the name, color, reflection, texture and much more. Read all about these properties here.
Tool bar

In the Tool bar at the top of the Material Lab you can Render material, change the Shape of the thumbnails, and Change selected instantly.
Render material: Quickly renders the selected material in order for you to get a preview of the finished material.
Shapes: Choose from four predefined shapes to preview how the materials will look if you apply them to components in CET.
Change selected instantly: Applies edited properties of a material to a selected component in the drawing area instantly when a material is selected.
Viewing area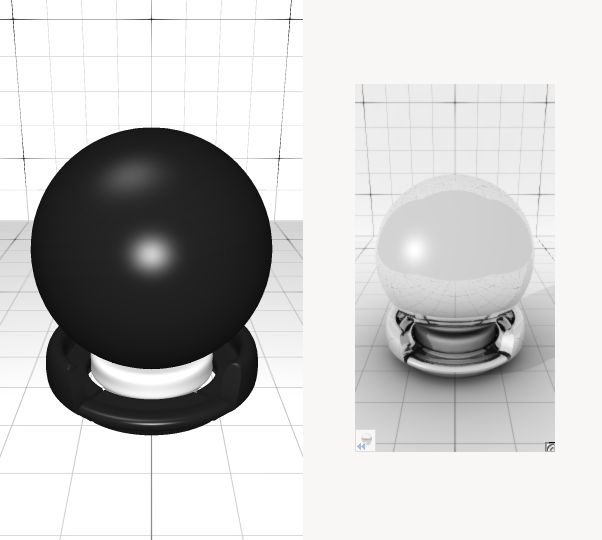 The largest part of the Material Lab is the Viewing area. The left viewing area is the real time window in which you can see all the changes and modifications you make to your materials. The right viewing area is the render window in which you will see the finished result of the material when it has been rendered. You can manually resize the render window. If you are unsatisfied with changes you have made to a material that has previously been rendered, you can choose to revert your work to your latest render.