On the Security tab, you can edit the following settings: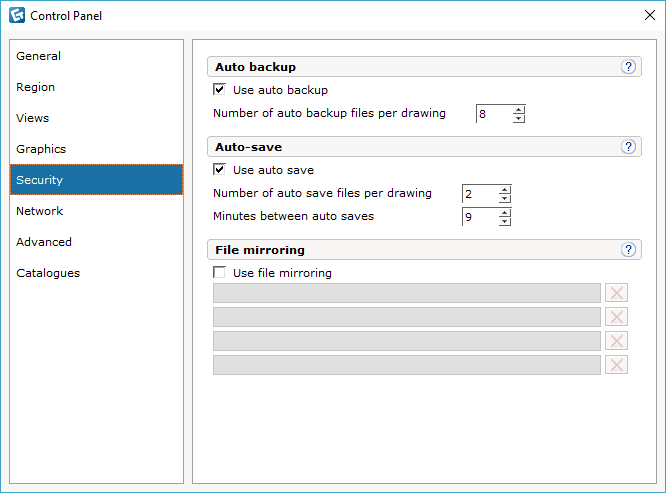 The Security tab in the Control Panel
Auto backup
Use auto backup: Select this checkbox if you want CET to save auto-backup files of your drawings (5 is default). Read more >>
Auto-save
Use auto-save: Select this checkbox if you wish CET to save your work periodically while in process. Read more >>

Number of auto-save files per drawing: Set how many auto saved drawings CET should save per drawing (5 drawings are default).
Minutes between auto save: Decide how often your drawing should be auto-saved during your work process. Choose a time interval between 5 – 90 minutes (9 minutes are default).
File mirroring
Use file mirroring: Select this checkbox if you want CET to create copies of all your drawings and backups to multiple locations of your choice, which could be local or a network drive.


You will want to keep the file mirroring folder path as short as possible, to avoid reaching character limits on some file systems, as CET will duplicate the folder structure
Some users have experienced moments when CET has seemed frozen while auto saving in the background; this will not happen anymore. When an auto save is about to be done, CET will try not to interrupt your work. If this is not possible you will receive a message telling you that CET is in the process of auto saving your work and that this may take a moment. If you ever get errors regarding saving, contact CET Support.