On the Catalogues tab, you can adjust how the Catalogue Browser behaves in CET.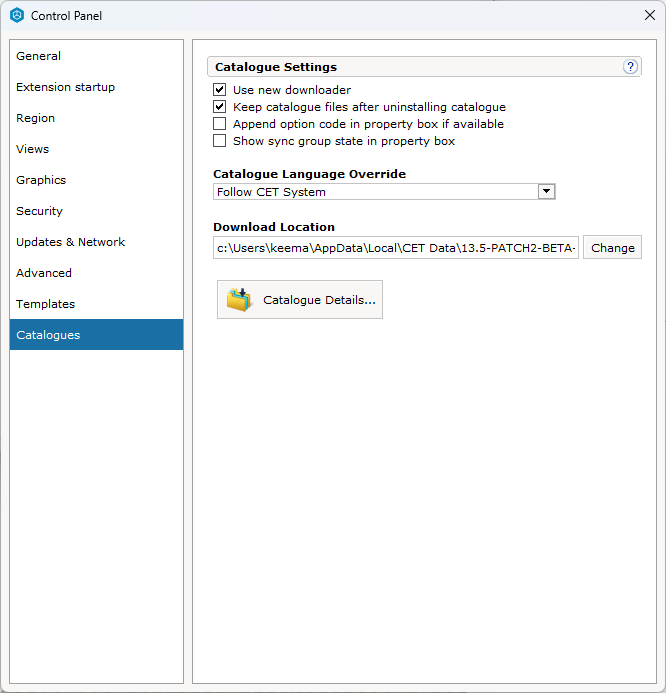 The Catalogues tab in the Control panel.
Catalogue Settings
This section contains the following options related to objects from the Catalogue Browser and Catalogue Creator:
Keep catalogue files after uninstalling catalogue: Selected by default. When this option is selected, catalogue data that has been downloaded will be retained upon uninstallation of the catalogue. This allows for the backup and sharing of catalogue data.
Append option code in Quick Properties if available: Deselected by default. Selecting this option allows the option codes of a particular option to be displayed in the properties box where available to help identify unique options.
Catalogue Language Override
The default setting is Follow CET System (i.e. the language set in the Region tab of the Control Panel), but it is also possible to select a different language from the list, which will then force the system to display catalogue contents in the specified language.
Download Location
The folder in which Catalogues are stored and updated can be adjusted here. Changing the Download Location will also force CET to redownload all of your existing downloaded Catalogues.
You can skip this step by copying and pasting the Catalogues from the previous (default at %localappdata%\CET Data) to the new desired location.
Catalogue Details
Clicking this button opens the Catalogue Selection dialogue where you can turn catalogues on or off as needed.