Papers can be exported as slides in Microsoft Power Point. Each page will become its own slide in a presentation.
To export pages, follow these steps:
In Paper View, go to the Export section and click Export to PowerPoint.




If you have 3D Viewports, you will be asked if you want to render them or leave them unrendered:




Follow the prompts to name and save your presentation.
Once named and saved, you will be prompted to open PowerPoint:




When you have opened PowerPoint, each Paper has its own slide. All slides are the same size, matching the proportions of the largest Paper.




Behavior in PowerPoint
Objects on your Papers can be edited in PowerPoint to customize a page once it is converted into a slide. Depending on the component from CET Designer, it will behave as its counterpart in PowerPoint.
Shapes
Lines and other shapes from the Drawing (paper) component tab can be moved on the page as normal PowerPoint objects. They can be stretched, have their color changed, thickness adjusted, and more. Help lines, help grids, and help points do not show as exported objects.
Drawing Views & Photos
Viewports, Article Views, and Photos from Photo Lab function as pictures. You can add effects, transparency, and borders, and you can also crop or replace pictures.
The transparent background of a Viewport in Paper View becomes a solid white in PowerPoint. Use the Remove background function in the Picture Format tab in PowerPoint to bring it back to a transparent state. Learn about this tool on their website.

Spreadsheets
Spreadsheets behave as tables whose contents can be edited. Double click on a table in PowerPoint to open a new Microsoft Excel spreadsheet file. Any changes to a table in this new file will not affect the original file that was loaded in Paper View. If you have a spreadsheet in your 2D drawing view that is within the bounds of a Viewport, it cannot be edited.
Text
Text fields can be edited in PowerPoint. You can change the font, color, and size of your text, as well as the text itself. Text fields that had text extending past the bounding box in CET Designer will no longer appear so in PowerPoint. The bounding box will expand to include the entire text, even if it was hidden in CET Designer.
Export select pages
When exporting to PowerPoint, all Papers will be exported. If you have Papers that are disabled, they will still export but will automatically be hidden slides. Hidden slides will not appear in a slide show when presenting.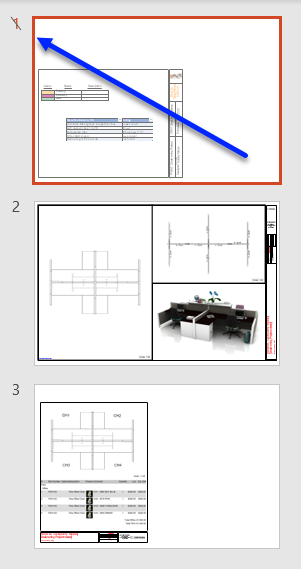 To disable a page, right-click on it's thumbnail on the bottom of Paper View and select Disable page from the context menu.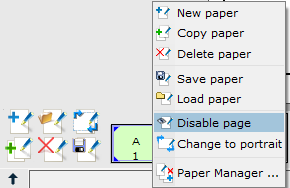 Disabled pages appear gray with hatching through it:

Disabled pages also do not print when creating a PDF or printing out pages.