There are two ways to include a quote in a printed report. Check either Article Views or Standard bill of material in the Body section of your Report Settings.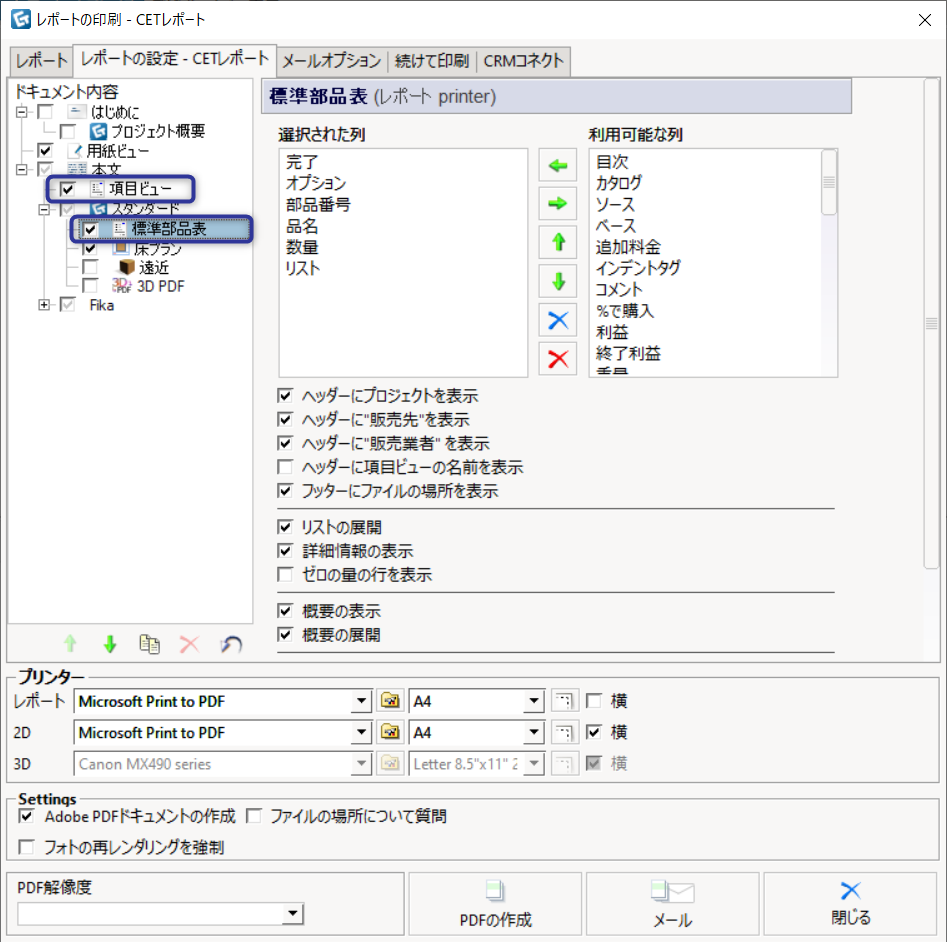 Check the Article Views box in the Print reports dialog to include an Article View from Calculations in the printed document.
In the Article Views section, leave Use the columns chosen in each view selected to retain all View Settings from Calculations. At the bottom of this section, check the boxes for which Article Views should be printed with the document.

Check the Standard bill of material box in the Print reports dialog to include an automatic quotation without special View Settings applied. The only control you have over what is shown is which columns will appear.
Specify the columns in the quotation
You can specify which columns to display in the printed quotation. There are two lists of column heading names.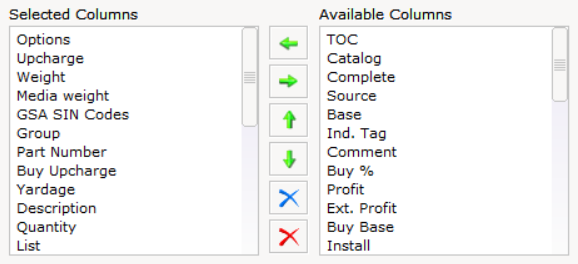 The left field shows the columns that will be printed and the right field shows the columns that will not be printed.
To move a heading to the other side, select the heading and click the Right or Left arrow button.
Use the Up and Down arrows to rearrange the order of columns on the left.
To move all the headings to the right field, click the

red cross.
To reset selected columns to default, click the

blue cross.
The options below the list of columns will determine any additional information to include in the quotation and affect the appearance.

Show project in header

,

Show "Sold to" in header, and Show "Distributor" in header will display the relevant information as set in the Project Information dialog.
Check the

Show article view name in header

box to display the name of the Article View as set in View Settings at the top of the printed view.
Check the

Show file location in footer

box to display the save location for the drawing file at the bottom of the printed view.

Check Expand list box to show all lines in the Article View, even if they have been collapsed in Calculations.

Check

Show detailed information

to see all finishes and options for all lines in the list.
Check the

Show rows with zero quantity

box to include lines with zero quantity.

Check Show summary box to include all information found under the Summary heading in the Calculation dialog.
Check Expand summary box to include all items in the Summary section that do not have any price information.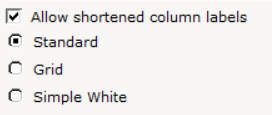 The

Allow shortened column labels

option allows CET Designer to shorten column names to save space.


Note that if too many columns have been left on, contents will begin to overlap and look cluttered.

Standard,

Grid

,

and

Simple White

options affect the style of the printed report:
T
he content in the Print Report dialog can vary depending on the Extensions installed.