Welcome to the 12.5 Minor Release QA Testing Guide, please check with your developer to make sure these changes are available in your extension before start testing.
Bug Fixes
In 12.5 Minor Release, there are some substantial bug fixes that were cherry picked and recommended for partner retest, for greater assurance towards CET stability.
CAD improvements and fixes
This time around, we've shifted our focus to fix some known CAD issues, as well as implemented some improvements. In CET 12.5 Minor, CAD users should experience slightly faster CAD Import/Insert depending on the content, size of your CAD file.
There is also a new progress dialog during CAD insert, where there are now 2 insert progress bars instead of 1 that runs repetitively. The top bar refers to the overall CAD, where as the bottom bar refers to the external references (xref). So, the bottom completion will eventually contribute to the increment of the top progress bar.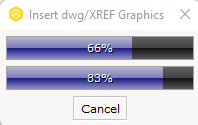 Alongside with improvements, we've also done several bug fixes that might cause unfavourable user experience, which comes in contact with incorrect/inaccurate CAD imports and CAD file not updating to latest state even after clicking on 'Refresh'.
With this, we emphasize smoke test instructions of:
Open CAD dialog, Import and Insert your desired CAD file and make sure it can be inserted into drawing successfully.
Verify the correctness of the inserted CAD file against a CAD viewer (AutoCAD, etc).
If you are an advanced CAD user, open the same CAD in AutoCAD, proceed to *make some changes and save. In CET, proceeding to click on 'Reload dwg' button should refresh and reflect all latest changes made in AutoCAD.

Try save/loading the drawing, make sure everything is intact and there are no anomalies.
*Simple changes like adding a Line, Polyline, Circle, repositioning CAD layers will do.
Switch between different user interfaces
We've tweaked the navigation from paper view to drawing space (vice versa). When working with large scale drawings and humongous papers, users should notice faster switch between paper view and drawing space.
We don't hope for adverse effects on your end, do check by:
Create new/Load existing drawings (moderately sized at least) into CET, try switching between paper view and drawing space. Ensure it doesn't crash for you, and relevant content loads well and works flawlessly.
Have additional questions?