In the SketchUp Extension, you can import and export .skp files created in SketchUp. To have more control over the technical details of how this behaves, you can manipulate your Import/Export settings by clicking this button: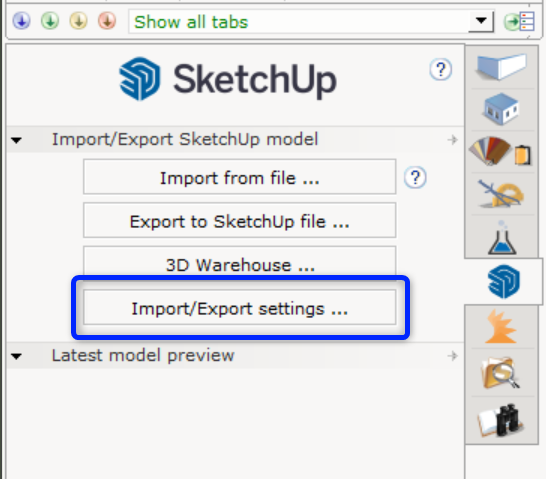 The button will open this window: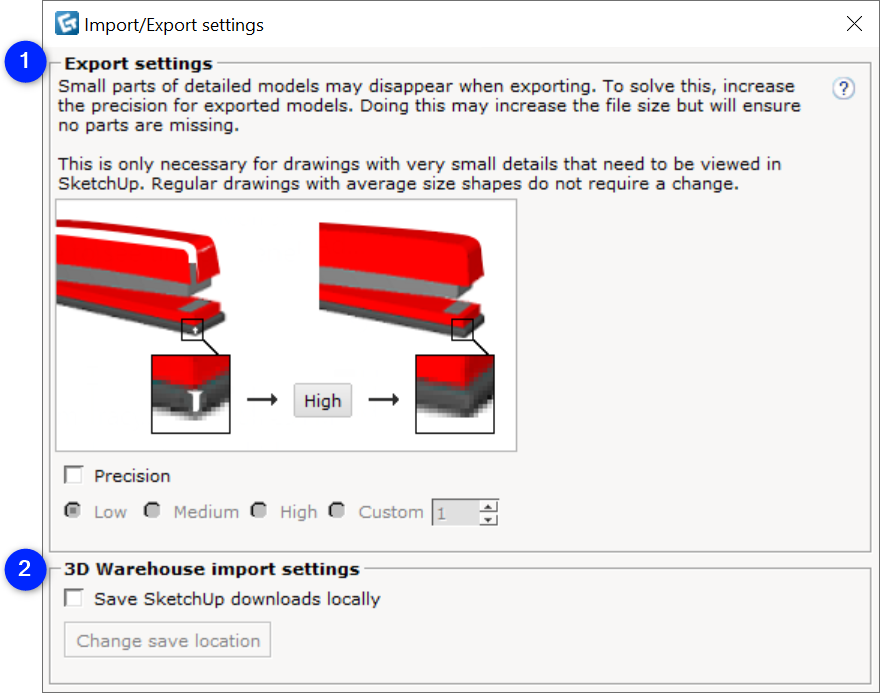 1. Export settings
As you can see, the Export settings have a nice, detailed explanation in the dialog. If you are more of a techie, you can click the (?) for even more detailed information, like with math!
If you want to change the precision of your models, check the Precision checkbox, then choose between Low, Medium, High, or Custom.
Low precision means that fewer details are shown on the model in SketchUp. This will not affect your renderings, only the working models. Setting a lower precision can help with larger models where the tiny details are not as important.
2. 3D Warehouse import settings
When you import a model from the SketchUp 3D Warehouse, it shows in the Latest Model Preview, then moves to the Recent section. When you re-open CET, it does not remain in the Extension (though of course it remains in your drawing).
If you'd like to be able to access models you've downloaded at a later date, there are just a few simple steps.
Check Save SketchUp downloads locally.
Click Change save location to choose a folder for them to live on your computer. It is saved as an .skp file, which is the native file type in SketchUp.
When you want to use the symbol again, you can import it like any other .skp file.
Some SketchUp models have unpredictable names, so it might benefit you to visit the folder you set as the save location after you download a model and rename it something easy to understand.
If you do not want to save every SketchUp model downloaded from the 3D Warehouse but still want to be able to reuse some, you can save models as
Favorites (.cmfav)
and
insert it
in another drawing!