Publish Your Build
Step 1 - Create your build using CET Operator by clicking the Build Central button.
A detailed explanation of how to create your own build is explained in the Build Central article. After following the instructions in the link provided, your build should be uploaded on MyConfigura.
Step 2 - Upload your build under Build Center on the MyConfigura page.
When publishing your Extensions, using the build you have created, it must be done on MyConfigura by navigating to Dev Center > Build Center, or simply by using this link: https://www.configura.com/my/buildcenter.
When you want to publish Beta or RC, it is usually done under Custom Distribution in the Build Center page. And when you are ready to publish your official version, you can add your build to the Official Distribution. More information regarding how to publish your build in Build Center can be found in The Distribution Concept under Configura Help Center > MyConfigura > Build Center.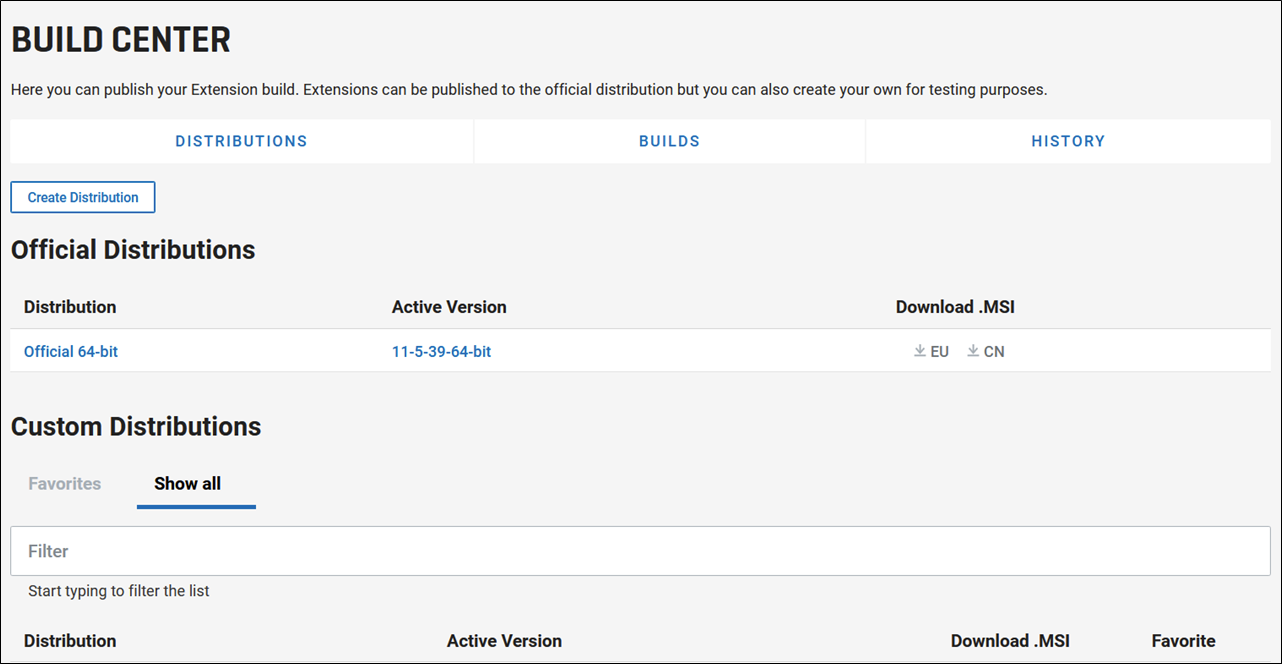 Build Center on the MyConfigura page is divided into Official and Custom Distribution.
Signing off Process
A signing off process is primarily done by the Extension Owners and Developer Admins. It is to ensure that the new build has been tested and includes a planned release date.
By doing this process:
Support can plan in advance to let the users know the release dates of the Extensions. For example, let us say that a user has multiple Extensions installed in their CET Designer and there is one Extension that has not been released to the new version yet. So when a user tries to open a saved drawing, the products from that outdated Extension will not appear on the drawing. This will cause a lot of confusion amongst users, but if Support publicized the dates beforehand to the users, they will understand the circumstances.
QA can plan ahead for when they can perform the live update test on your Extension.
Support will be aware that there will be a spike in the number of tickets from users during that period of release and can allocate time accordingly to fix those bugs on time.
If a user asks when he/she can update to the new version of your Extension, Support can inform the user of the exact date of release.
Once QA has signed off, the release dates go in the list of build details which gives Support an overview of all the Extensions to avoid any delays or drastic changes on the release date.
More details on signing off on Extension testing can be found under Configura Help Center > My Configura > Release Testing in the MyConfigura page.
Once signed, the version will be marked as Signed to notify Configura that you have completed the test.