In this tutorial you will learn how to create a 2D-representation of your model and how this can be edited.
Download the following model file: colored chair
Open Model Lab and import the model.
Switch to 2D by clicking the 2D button in the toolbar or by pressing Spacebar on your keyboard.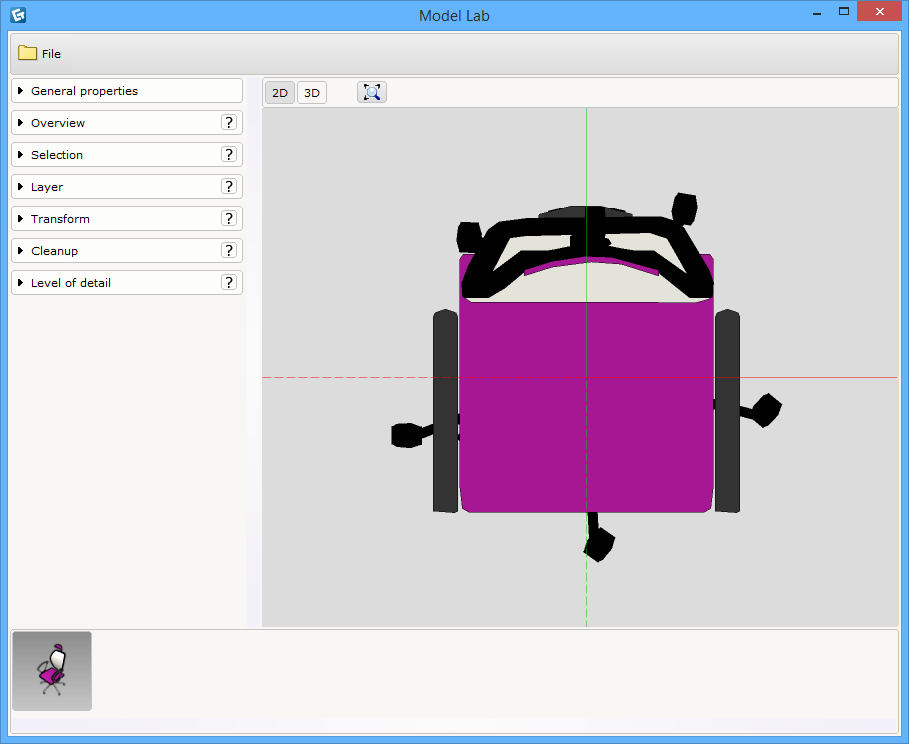 The toolbar changes a bit when you are in 2D-mode but most of the features from the 3D-mode is still present.
One important difference is that you cannot select the 2D-nodes by clicking on them. You need to select them in the Overview. We will work on removing this limitation.
Another difference between 2D and 3D is that the elevation control found in the Transform controller for 3D, is found in the Position section for 2D.
Here you can edit the order in which the nodes are drawn.
Go to Overview and select Layer.
Select the layer named "polySurface52".
Now edit the elevation of all the selected nodes by moving the elevation slider or by inputting a value.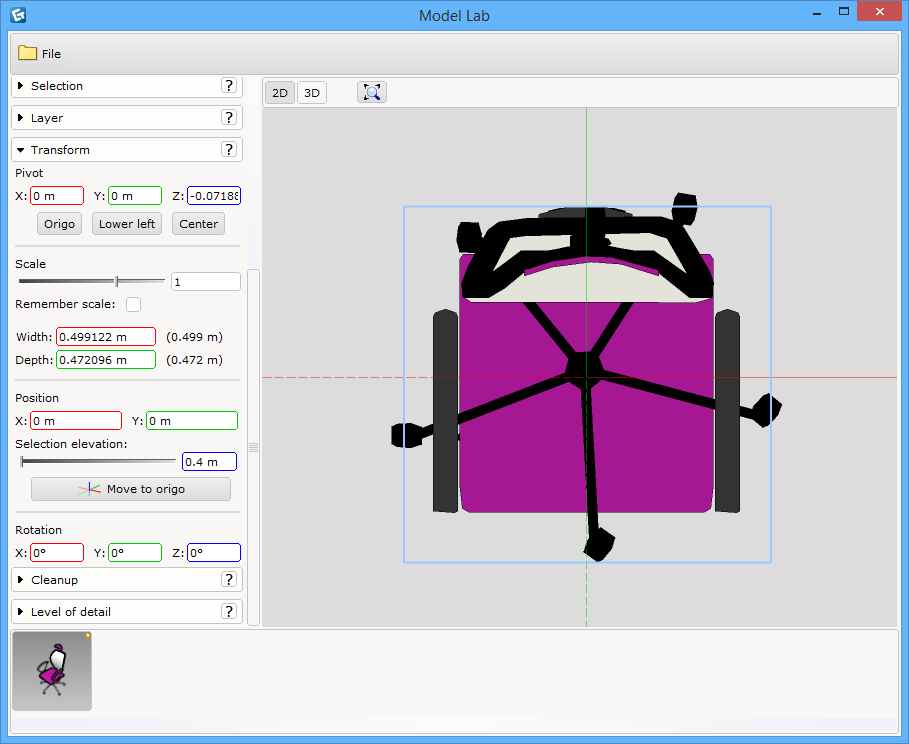 If you are missing the 2D completely, you need to go to the Level of detail controller.
Click on Rebuild base from 2D to create a new 2D-representation based on the current Base model visible when you are in 3D-mode.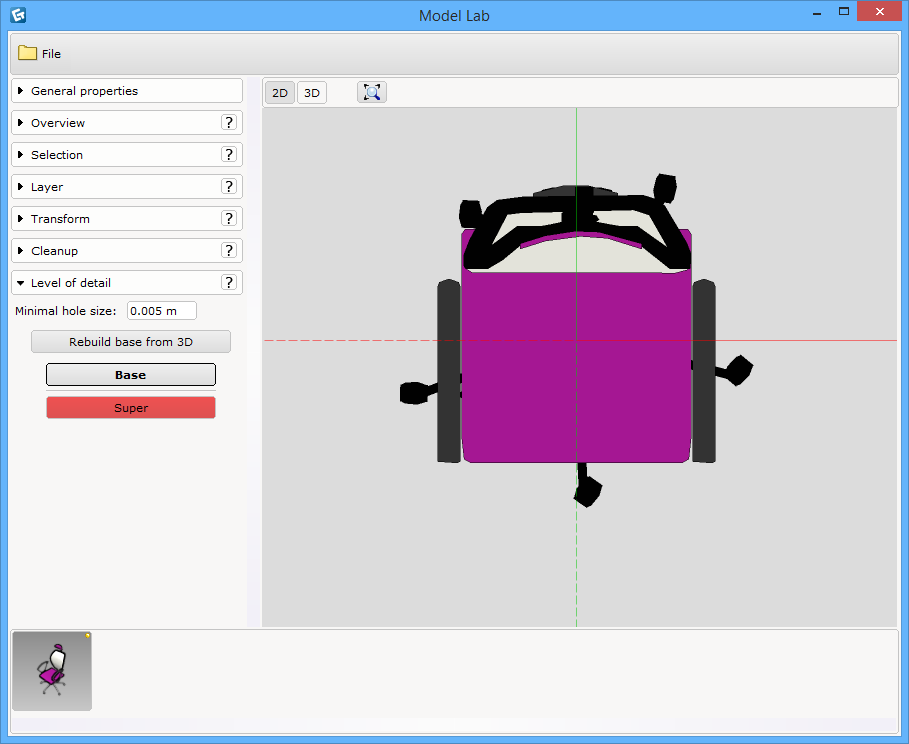 As you can see, there is only a single LOD for the 2D. Just like in 3D, it is marked with red color to indicate that the model is a bit too heavy performance wise.
Click on the super LOD button.
First select all nodes by using Ctrl + A.
Use the slider to reduce the number of lines. Unfortunately there is no automatic solution for this yet.
Reduce the number of lines until the button is marked with green color.
You can also select nodes that you know are completely hidden and just reduce those. We plan to do this automatically in the near future.
You can also select and reduce small nodes by using the Select by size found in the Selection controller.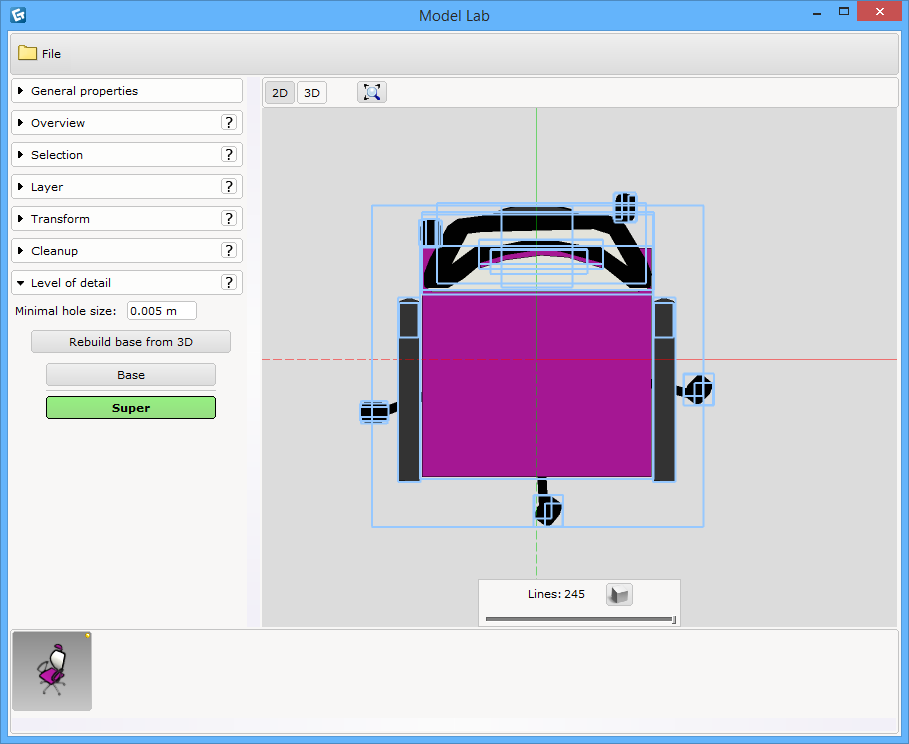 That's it! Now you should know:

How to create a 2D-representation from your 3D-representation.
Edit the elevation of selected nodes.
Perform manual line reduction.