The Movie Studio Extension enables you to create, edit, and save movies in CET. Create a unique experience for each of your customers as you help them visualize exactly how their space will look.
The Extension is available on the Marketplace. Once downloaded and installed, you will see the Movie Studio component tab in CET: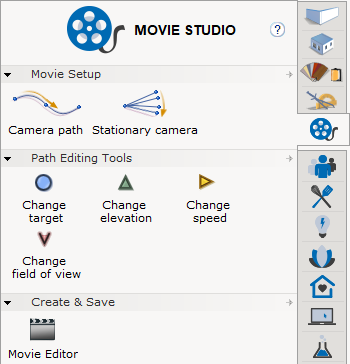 A movie consists of one or several scenes. To record a scene you need to create a path that defines how the camera should move. You define your path in the 2D view where you can also edit the camera motion (elevation, speed) and view (target, field of view). After recording, you can view, modify, and edit the order of the recordings in the Movie Editor. The final video can be saved to multiple formats. These formats do not require any additional codecs in Windows.