The Components area on the left-hand side contains the different component tabs. The tabs that are present depend on which Extensions you currently have installed.
>> Read more about Component Tabs.
When selecting a component in the component tab, it will appear in 2D or 3D in the component preview below. The component in the view can be rotated by using the mouse buttons. You can also choose to minimize or maximize the preview window with the expand button in the upper right-hand corner of the preview window. This preview is optional and can be turned off from the Views tab in the Control Panel.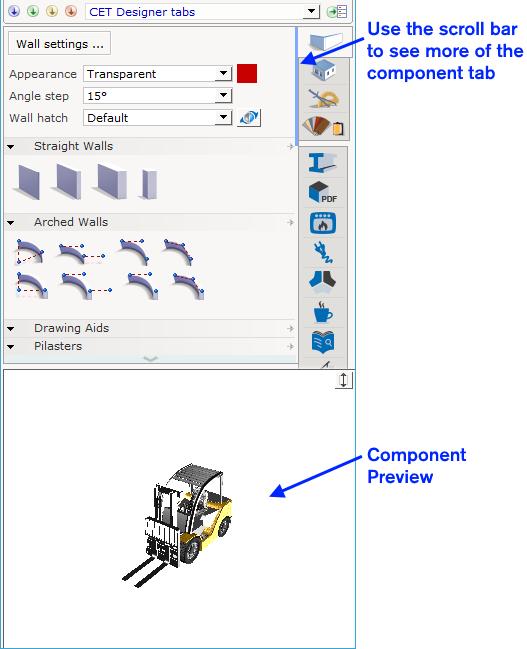 The Components area and the preview rendering view
Collapse component tab fields
When scrolling through the contents of a tab, sections are automatically collapsed and expanded if all the tab contents do not fit at the same time. You can also collapse/expand sections by clicking the arrow next to the header. Collapsed sections will remain closed until expanded.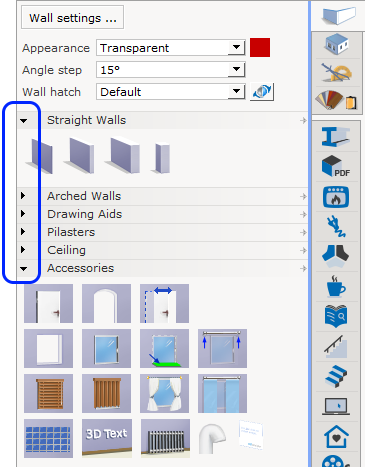 Expand/Collapse buttons
Navigating between component tabs
When you have many extensions installed, you may have more tabs than can fit on one screen. To scroll through all the tabs, hover your cursor over the list of icons and roll your scroll wheel. You can also left-click-and-drag on the icons to move them.
To make tabs easier to find, you can select a component tab configuration from the drop-down menu at the top of the component tab area. This filters tabs to show only ones associated with the selected extension. Each extension has their own configuration, or you can create your own.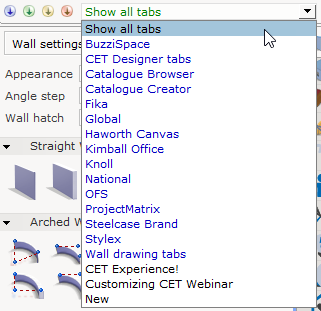 Use the Backspace key, as well as Backspace + Shift, to navigate backwards and forwards between the tabs you have been visiting lately.