An Existing block contains all items that are in an existing space. A reconfiguration can consist of one or more Existing blocks. Existing blocks can be a .cmdrw (CET drawing file) or a SIF file. Each Existing block displays a priority order to set from which list items are pulled first, second, and so on. Items that are not used in a proposed drawing are placed in Reuse from Existing for later use.
To add existing items, follow these steps:
Double-click on the Existing block or right-click and select Load file from the context menu. You can also drag and drop a file onto the block.
Browse for a file with existing products, either a CET drawing or a SIF file; select it and click Open.
Select the block in the flowchart. In the green properties box, you can:

Rename the block to describe what the block contains. Note: A shorter label will make printing easier.
Set the priority order (see explanation below).
Change the color of the block.

After loading the file, select the Existing block to view a list of all items in the calculation view below the reconfiguration chart. You can change the settings of the article view by clicking the View settings button.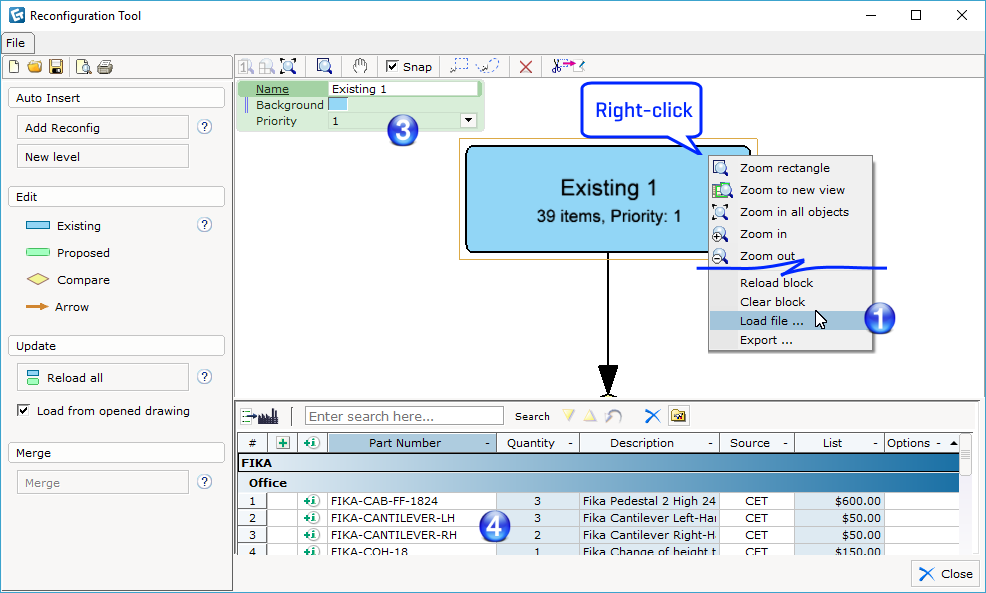 A selected Existing block with related article view.
Priority order
Setting a number for the Priority in the green properties box of an existing cell will determine which article view is consulted first in determining what can be reused. For example, imagine you have two Existing blocks: one for an existing client space, one for product in inventory. You would first want to reuse products from the client's space before tapping into the inventory. Set the priority for the Inventory block to 2 so that it is pulled from after product from the client's existing space is maximized.
Merging blocks
Existing blocks that are on the same level in the reconfiguration chart can be merged. The Merge button is grayed out until you have selected two or more blocks that can be merged. To select multiple blocks, press Ctrl and click on each block that you want to select and then click the Merge button.