Properties of a component can be changed while placing it, or after it is placed in the drawing area.
To change the properties of an object that is already placed in your drawing, select it, and then a green properties box with various available options appears: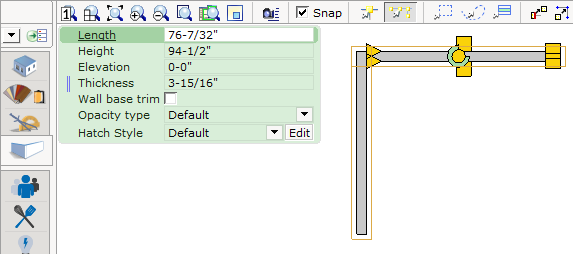 In some properties boxes, you enter the information directly into the active fields. In others, you only need you to select a predefined value:

The following applies for various properties boxes in CET:
Enter values using the keyboard.
Move between different levels (Width, Height, etc.) using the Tab key. To step up a level, press Shift + Tab.
Move between the different values on the same level with predefined options by pressing the Spacebar. To return to a previous value on the same level, press Shift + Spacebar.
Select/deselect a checkbox by pressing the Spacebar or by single-clicking in the box.
You can click-and-drag the two blue vertical lines on the left of the properties box to move it anywhere on your screen.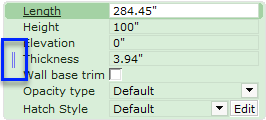 Click them once to collapse it and make more space in the drawing area. Once it is collapsed, it will return to the upper-left corner of the active drawing view. Click on the three blue horizontal lines to expand it again: