The Component Tabs Configurator just above the component tabs area is used to create and save configurations for component tabs. These configurations can be saved as Quick Buttons for easy access. This allows you to customize which tabs you see while working.
Switching visible tabs 
When working with multiple Extensions you may have many component tabs to work with. You can filter which tabs are visible. Click the down arrow above the component tabs to switch to preset configurations such as CET tabs, Show all tabs, or a certain Extension.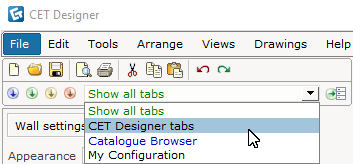 Modifying and saving tab configurations
You can create your own component tab configurations so that only selected tabs will be displayed. This reduces the number of tabs and simplifies navigation. This is useful if you want to use tabs across various Extensions without switching back-and-forth or scrolling. It's also useful if you only use certain product lines from a manufacturer. 
Click the

 

Component Tabs Configurator

 

button located above the component tabs:





To make edits, click the 

Copy button and name your configuration:




Add/remove tabs by selecting or deselecting them. Not only can you decide which tabs that should be visible; but also which of their sections that should be included:




Use the dropdown to change to your saved configuration. If you want quicker access to them, assign your configurations to the four colored Quick Buttons available above the component tabs. Linking them together is done in the Component Tabs Configurator:



Your configurations are saved in your local CET Documents folder with the path: CET Documents/Preferences/Toolbox. To delete a configuration, go to this folder, select the configuration and press Delete.