Moving Components
A component or group of components can easily be moved in the drawing area.
Follow these steps to move a component:
Select the component or the group.
Click and drag the component/group with the mouse. Release the mouse button when the objects have been moved to the desired location.
You can also move components or groups of components by selecting the component/group and then pressing one of the four arrow keys on your keyboard.
If you would like the component to be moved more gradually within the drawing area, hold down the Ctrl key and use the arrow keys.
When using the arrow keys to move components, the snapping feature is turned off.
Movement Aid
When moving objects, dotted lines make it easier to move them in straight lines without having to resort to tools. This aid is triggered automatically when moving objects horizontally or vertically in a straight line. When the aid is active, it displays as a dotted pink line. When moving objects not in a straight line, you will see a dotted gray line to indicate the origin of the object being moved. With the aid active, it is also possible to enter the exact value for the distance you wish to move the objects.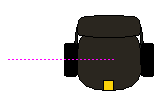 Aid active Aid inactive
You can turn the movement aid off in the Miscellaneous section of the
Views Tab
in the Control Panel.
Removing Components
There are different options for removing objects from the drawing area:
Select the desired component/group of components and press Delete on the keyboard.
Use the Remover tool , available from the toolbar in both the 2D and 3D views, to click objects that you want to remove. In the 2D view, this tool can also be used for drawing a rectangle to delete objects.



Drawing from left to right produces a rectangle with dashed lines that removes all objects that it touches or covers:

Drawing from right to left produces a rectangle with solid lines that only removes objects that are fully enclosed within the rectangle:


Use the Revert feature in the File menu. The Revert feature removes all components and modifications since last time the drawing was saved.