The Clip Collection contains all the camera paths and stationary cameras currently in your 2D view: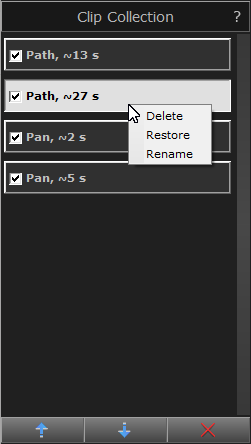 Here you can do the following:
Change clip order:

D

rag n' drop to alter the order in which the clips should play, or select a clip and move it up or down in the list by using the blue arrow buttons at the bottom of the list.
Exclude a clip from the movie:

D

eselect the checkbox next to a clip that you wish to exclude from the movie.
Delete / Restore / Rename clip:

R

ight-click a clip to bring up these three options:

Delete:

Removes the selected clip from the Clip Collection

AND

the 2D view. You can also delete a clip by selecting it and clicking the red X at the bottom of the list, or by deleting the path in the 2D drawing view.
Restore:

I

f you have trimmed a clip, this option will restore it to its original state.
Rename:

Specify the name for the clip which will be displayed in the Clip Collection and on the timeline.