When you have decided on the clip order and movie settings, it is time to save and export your movie.
In the lower right corner of the Movie Editor, click the Export button: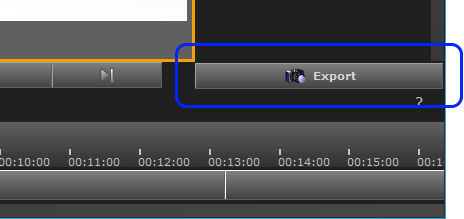 This will open the Exporting movie dialog where you can see your movie being rendered in the preview window. The orange frame indicates that the movie is currently rendering. There is also progress information available: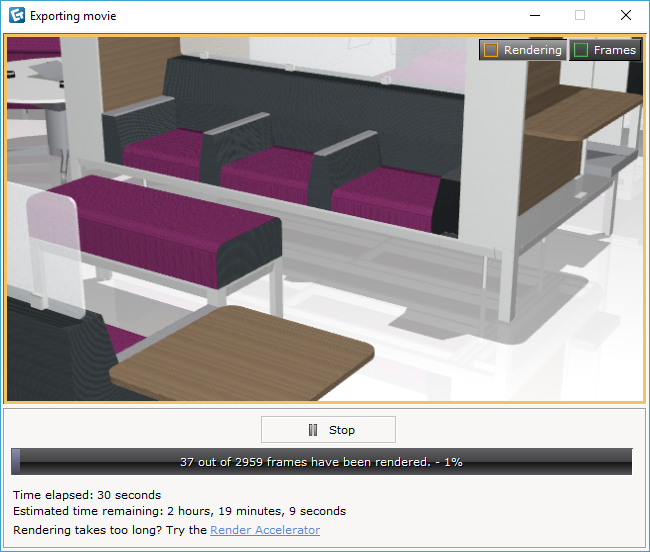 When the movie is rendering, you can toggle between Rendering mode and Frames mode. Rendering mode shows the actual rendering process while Frames mode lets you preview rendered frames while the rendering is ongoing:

Click Stop to abort the rendering and find the following options:

Use the playback controls to play the frames that have finished rendering until the progress was stopped.
Show in folder opens the folder where the partially finished movie is saved. The file is highlighted and the name will says "partial" so you'll know it is not complete. The folder is determined in the Save Location section of the Movie Settings of the Movie Editor.




Resume opens a dialog where you can pick up where you left off and continue rendering or start over from the beginning if you have made changes to the drawing or movie paths.
Export Frames lets you select a folder on your computer or network where you want to export rendered frames. The selected folder is then opened to display the exported frames.
Movies created in the Movie Studio are of .mp4 format.
Once the movie has finished rendering, the outline turns green and you are presented with the same options as described above. The only difference is that you can Play the movie instead of Resuming the rendering. Click Play to see the finished movie in your default media player: