Before exporting your movie, there are several settings available that will determine the final results. You will find the Movie Settings on the right side of the Movie Editor: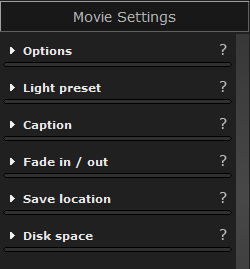 Options
Here, you can choose between predefined movie presets or create custom settings: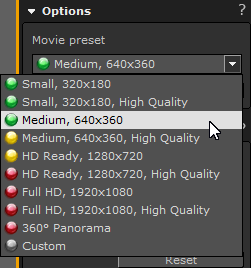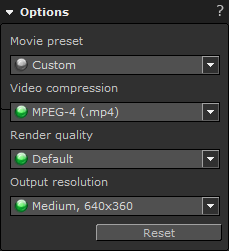 The default is a 640×360 video of medium quality, but you can increase the quality or create a 360° panorama video. Selecting the Custom option will let you pick Video compression, Render quality and Output resolution yourself. Color indicators are used to show that certain settings will make the movie quite large and therefore will take a longer time to render. (Green = small and fast; red = large and slow.)
360° panorama videos are video recordings where a view in every direction is rendered at the same time. The video can be shared or uploaded to the web (e.g. Facebook or Youtube) and can be viewed on a PC, mobile device, or dedicated head-mounted displays. During playback, the viewer has control of the viewing direction like a panorama.
Light preset
There are a number of light presets to choose from: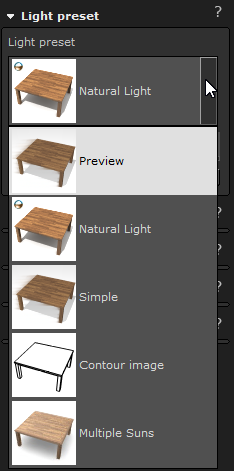 Most options available in the Light preset list allow you to adjust their settings (not Preview and Contour Image). To learn more about the light settings, please review the Photograph Setup: Lighting & Shadows article.
Although Normal is the default, Preview is the quickest way to render a movie. It is more or less a screen capture of the camera's view moving along a path. The selection of light presets is dependent on which Extensions are currently installed.
Caption


Add a caption (text) that is displayed throughout the entire movie.
Post-processing
Add a fade-in effect in the beginning, a fade-out effect at the end of the movie, or both. This can create a more subtle start or end to the movie to avoid a stark beginning and endpoint.
What tone map does is that it tries to solve the problems of movies having too strong contrasting tones by adjusting contrasts locally in the movie.
Exposure is basically an adjustment of how bright and dark the resulting movie will be.
Both Tone map and Exposure are applied on top of the rendered movie, so there is no need to re-render the movie to see changes applied here.
If you find your exported movie too bright, try dialling down the Exposure or turning off/on tone mapping.
| | |
| --- | --- |
| | |
| Tone map off | Tone map on |
Save location


Set where the finished movie will be saved. Click "…" to browse for a different save location.
Disk space

Gives an estimate of required disk space and movie size. It also lists the actual available disk space for the selected save location.
If you do not have enough available space, you can do one of the following:
Reduce the length of the movie by removing clips.
Choose a lower-quality movie preset.
Save the movie to a different location.
Clear out the desired folder of any unnecessary files