The Render Accelerator Extension is downloaded from the Marketplace, where it can be found among the Utility Extensions. After installing it and updating CET, you will have access to a new component tab in the interface: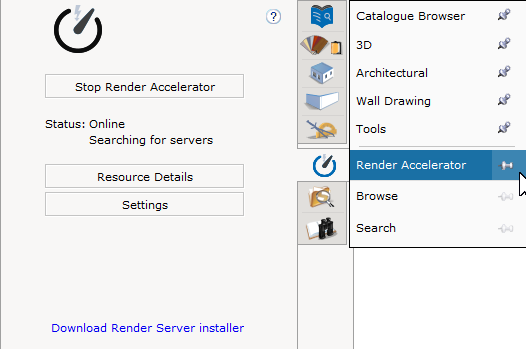 The Render Accelerator should be ON by default after installation, meaning it automatically starts searching for servers.
The Stop Render Accelerator button on the component tab is used to turn off the Render Accelerator. This means that the search for servers is stopped, found servers are no longer shown, and communication with them is disconnected. In this state, all renderings are done locally on your computer.

Pressing the same button again (now labelled Start Render Accelerator) will turn everything back on. The Render Accelerator starts searching for servers again and shows its current status and search results below.

Note how the clock in the Extension logo indicates status:



Online Online Offline
Searching for servers Ready to render No connection with servers
On the component tab, there is also a button for opening the Resource Details window, where you will find more detailed information about each resource in the rendering network.
There is also a Settings button that displays the IP address that your computer uses for communicating with servers. This must be on the same subnet as the servers for automatic discovery.


The link at the bottom of the component tab downloads the installer for the freestanding Render Server. This will let you make your computer available as a resource in the rendering network.