When you have placed a camera path or a stationary camera, you can do some basic editing in 2D view. When selecting a path or stationary camera, yellow snap points become available for stretching the path or changing its shape (paths only).
Selecting a path or camera also brings up a properties box where you can alter:

Camera Elevation: Set which height the camera should move at, default is 1 800 mm (64").
Pitch: Change how you would like the camera to be angled. Default pitch is 9 degrees, this means that the camera is angled slightly downward.
Field of view: Change the visual field. Default is 30 degrees.
Speed: Set the speed of the movie. If you increase the speed the number of red dots decreases and vise versa. The distance between two red dots is equal to a half a second in the movie.
Name: Assign a name to your path so you can keep multiple paths clear when stringing paths together in the Movie Editor.
Reverse direction (stationary cameras only): Checking this box will make the camera move in the reverse direction. For this purpose, you can also use the blue double-arrow on the stationary camera.
Path editing tools
After defining a camera path, you can work with path editing tools to add different events to the path. These events add enhanced flexibility to the CET Movie Studio Extension and help you customize movies according to your wishes. Follow these links to read more about the available camera path events: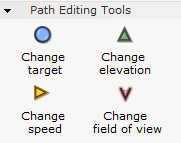 The Path Editing Tools