Drawing doors, vaults or sliding doors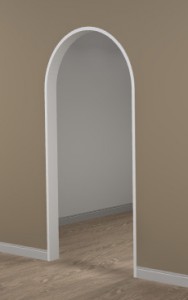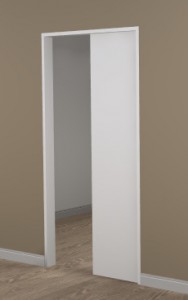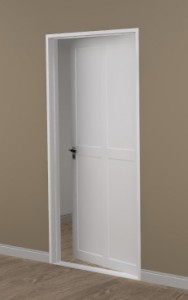 To place a door in an existing wall, follow these steps:
On the

Wall Drawing

component tab, select a

Door, Vault, or Sliding door

tool.




Move the component into the drawing area. The door snaps in line with the existing wall.
Use the input fields in the properties box to specify the dimensions. To place it at a certain distance from the end of the wall, use the Left or Right fields.


The hinge side is considered the Right of the door, while the latch side is considered the Left. If you type a distance into the wrong cell, hit the Spacebar to unlock the field, then hit Tab to move to the correct line.




When it is in the desired position, click to place the first side of the door. A properties box opens.
The width of the door can be determined either by entering a value in the properties box, or by moving your cursor to the desired width in the drawing view. Once the width is set, left click or hit Enter.
After you have placed a door you can still change its width, height and other values, by selecting the component and entering the new settings in the properties box that appears.
Additional properties can be assigned with the
Window/Door properties
dialog found by
double-clicking
on a window, or by right-clicking and choosing "Properties"
Door arcs
All doors in CET Designer default to their fully opened state when newly placed, and automatically display their swing arc in the 2D view. You can control the arc line type (dotted, dashed, etc.) as well as door thickness to help increase visibility. You can change individual doors from their properties box. Use the Wall Settings dialog to change the defaults.