This article is about the new industry products for CET and how they affect development.
The industry products (also called editions) are:
Logo

Edition

Commercial Interiors
(a.k.a. "CI")

Kitchen and Bath
(a.k.a. "KB")

Material Handling
(a.k.a. "MH")
FAQ
Do I need to do anything to implement different editions?
No – they will work as they are. The classification of which extensions belong to which edition is made on MyConfigura, but no change needs to be done to the extension files themselves.
Which edition will I get when starting CET 12.0 or later in release mode?
You will get all editions for which you have an enabled license for. Since the CET Developer-license includes all three licenses, you will by default have them all in release, unless you disable any of them.
The splash-screen, icon, and other graphics will be selected from the enabled edition with the highest priority. The priority order is MH > CI > KB, so if you have MH installed then the splash screen etc. will always be based on that one. But if you have all three editions installed and want the splash screen for KB, then you need to uninstall/disable the licenses for the other two editions.
There is also a way to simulate licenses using the License tool in MyConfigura:
MyConfigura -> Dev Center -> Licenses: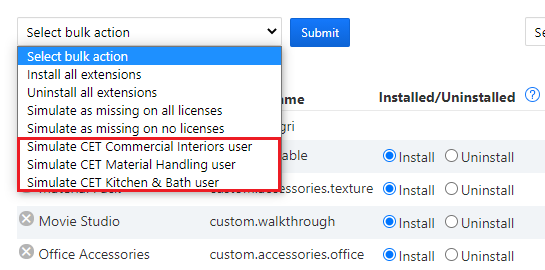 You can also go to Extension Details and temporarily disable any edition from there and then restart CET for the change to have an effect. But please note that the edition disabled in Extension Details will be re-enabled again next time you install updates.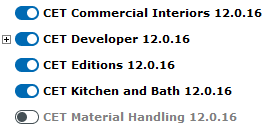 Which edition will I get when starting CET 12.0 or later in develop mode?
Develop mode will currently run in a "none/all-editions-mode", which means that all functionality from all editions is available and the splash screen etc. will show a CET-logotype with icons in all three colors.

Why are the shortcut icons and pinned taskbar icon blue even if I have another edition as the primary edition?

The installer will currently not install different icons based on which edition(s) you have since that information is only available after you have logged in to MyConfigura. Therefore the default icon will be used, which is the blue one from Commercial Interiors.
If you have further questions about the industry products, please contact
developer support
. This Q&A page will also be updated when we see a need for further clarifications.